The cast includes Mikey, the president of the Tokyo Manjikai, and other characters with a leading role in the show.
Tokyo Revengers.
There are many cool characters in the hostile team as well as the friends surrounding the main character, Budo Hanagaki.
Their appeal, after all, is not just that they are strong fighters.
The way each fights for their own righteous cause is very moving.
From among these Tokyo Revengers, we introduce a selection of popular characters.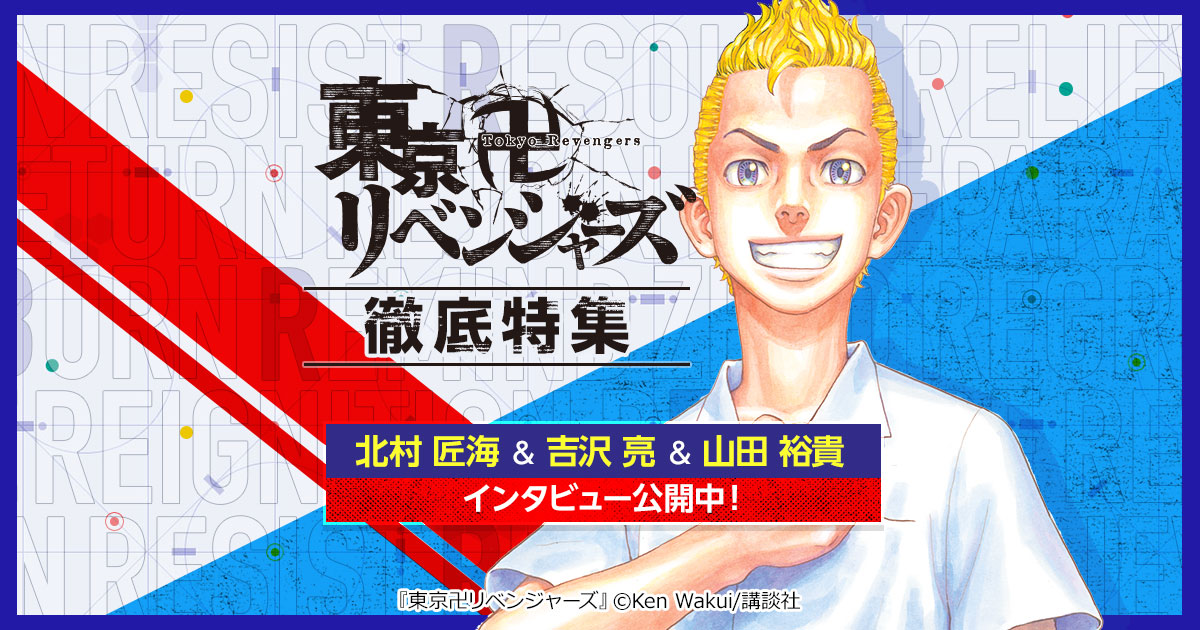 Not just cool! Characters full of personality
In addition to the interesting story, the characters in Tokyo Revengers are unique.
The main character, Budo Hanagaki, is weak but hardworking and dedicated.
Mikey, the president of Tokyo Manjikai, the manly Drakken, and others.
The characters are very attractive, captivating both men and women alike!
The following is a list of faces so rich in personality that any one of them could play the leading role.
Takemichi Hanagaki, a no-good freelancer
He is the protagonist of the story, a 26-year-old dull freelancer.
One day, while lounging around working part-time at a rental video store, someone pushes her back on the train platform and she is transported back to her eighth grade years.
Takemichi returns to the past and struggles to save his former lover, Hinata Tachibana, who was killed by Tokyo Manjikai in the present day!
The strength to stand up to any opponent is encouraging to those who read the book.
It is quite heartwarming to see him meet Mikey, the president of Tokyo Manjikai, and confront his destiny while despairing of his own inability to do anything about it!
Tachibana Hinata, a single-minded heroine
Takemichi's only girlfriend in his life, whom he dated in junior high school.
Despite her cute appearance, she has a surprisingly headstrong side that keeps you on the edge of your seat when she runs off on her own.
He has such a brave heart that when Takemichi was entangled with Mikey and Drakken in the school, he volunteered to help.
His single-mindedness in supporting and thinking of Takemichi at all times is popular.
In the present day, Hinata is killed by Tokyo Manjikai at the young age of 26.
How Takemichi saves her life is a major highlight of the story.
Naoto Tachibana, cool but sisterly
Younger brother of Takemichi's ex-girlfriend, Hinata Tachibana.
A detective in the Organized Crime Division who harbors a deep hatred for Tokyo Manjikai, the group that killed his sister.
Naoto decides to become a detective when he is told by Takemichi, a junior high school student who has time-traveled, that his sister and himself will die in the future.
However, he is unable to resist fate, and his sister Hinata is killed by Tokyo Manjikai.
Naoto discovers that Takemichi has the ability to time leap, and decides to change the past in order to create a future in which his sister is still alive.
An important character in the story who is the trigger for the time slip.
Members of "Tokyo Manjikai
Manjiro Sano, President of Toman
He is the president of Tokyo Manjikai. Despite his small size and cute appearance, he is unbeatable in fights and has earned the name "Mikey the Invincible.
He is a leader who not only has a strong arm but also overwhelming charisma.
However, his true face is that he has not been able to get rid of his favorite toweling blanket since he was a child.
Another secret of his popularity is his unexpected side, such as when he is dallying with Drakken over the lack of a flag on his children's lunch!
Mikey's many quotes also captivate readers.
Ken Ryuguji, Vice President of Toman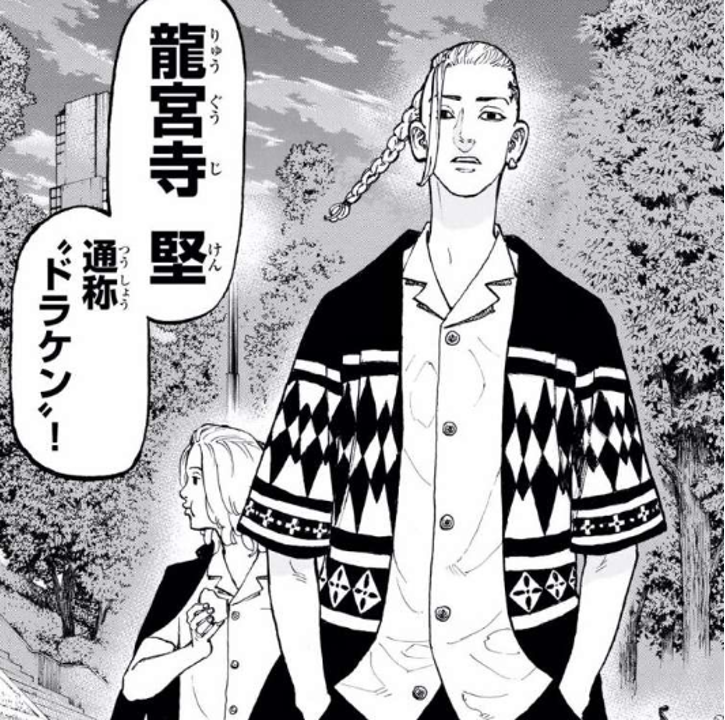 Vice president of Tokyo Manjikai and Mikey's best friend.
He is characterized by his middle-school-aged look, with his hair cropped on the sides and a dragon tattoo.
He is well endowed with a good physique and is a strong fighter, capable of defeating dozens of enemies by himself. He is commonly known as "Drakken" and is very popular, especially among men.
He looks cool but has a very passionate and companionable personality.
He is a character with a strong sense of justice who supports Mikey, the general manager, as his best friend, while at times trying to right his wrongs with harsh words.
Chifuyu Matsuno, Takemichi's reliable partner
He is the deputy commander of Tokyo Manjikai Ichibantai and a reliable partner of Budo.
Among the characters in Tokyo Revengers, the female popularity is so high that they are ranked first or second.
I believe in Budo's story that he came back in time from the future to save Hinata, and he is a reassuring ally who helps her when she is in trouble.
His personality is a bit natural, and there are many scenes that baffle Budo!
Chifuyu's natural comments and actions will make you laugh.
Since he was saved by Keisuke Baji, the captain of the second squad, when he was in a pinch after being sold into a fight, he has been a sincere admirer of Baji.
The bloody Halloween, which depicts the relationship between Chifuyu and Placechi, is a must-see and cannot be read without tears.
Summary of "Tokyo Revengers" Character Attraction Explanation
Tokyo Revengers features many other fascinating characters.
Not only the members of Tokyo Manjikai, but also the enemy team is full of unique members!
Not only do they spend all their time fighting, but they each have their own problems and conflicts.
The backgrounds of the characters are also carefully depicted, allowing the viewer to enjoy the story with a deeper emotional involvement.